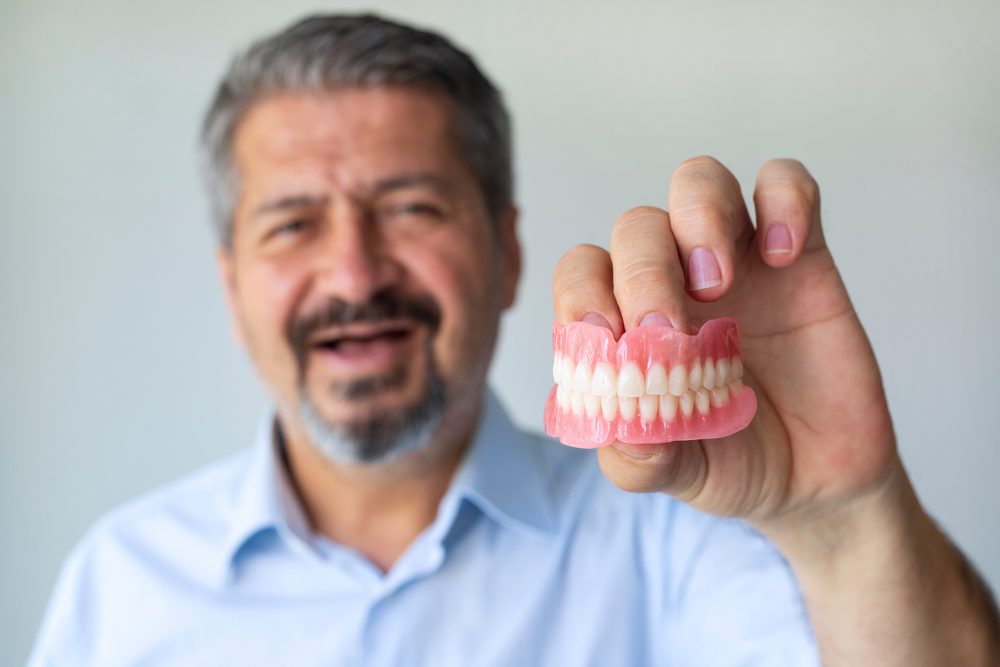 If you are missing some or all of your teeth, we can help you restore your smile using dentures. 
At Pine Creek Dental, we have a variety of dentures available, and we will review them with you to ensure we find the right treatment option for your needs. We will keep you as comfortable as possible as we complete your dental care plan and restore your smile.
Learn more about how dentures can help you improve your smile, and give us a call today to schedule an appointment for the complete Pine Creek Dental experience.
What Are the Different Types of Dentures?
Everyone's oral health is slightly different, and that is why there are multiple types of dentures available. The right dentures for one person might not be the right option for you, and that is why we will review all options with you before we decide which one is best for your oral needs.
First, we need to decide if you need full or partial dentures. If you are missing an entire row of teeth on the top or bottom, full dentures could be right for you. Or, if you have a few natural teeth left, partial dentures could be a better option.
Then, we can help you decide between traditional and implant-supported dentures. Implant-supported dentures use dental implants to anchor the dentures in place for a more secure fit.
Traditional dentures sit on the top of your gums, making them an excellent choice for people with jawbone deterioration. You can also receive a bone graft to restore your jawbone if you prefer implant-supported dentures.
How Do You Choose Your Dentures?
Our goal is to restore your smile while maximizing your comfort, and that means your dentures need to look like natural teeth. We will start by taking a look at some old photographs to see what your smile looked like in the past.
Then, using the latest dental technology, we can design dentures that match that picture as closely as possible, to restore the architecture of your face. This is important for ensuring you are as comfortable as possible while showing off your smile with confidence.
We can apply various procedures to maximize the results, so do not hesitate to talk to our team about all the ways we can restore your oral health while keeping you comfortable.
Who Needs Dentures?
If you have lost some or all of your teeth, dentures can make your smile full once again. We can help you determine if this is the right tooth restoration method for you and explore other options if not.
Candidates for dentures generally:
Have healthy gum tissue
Have proper jawbone density
Arrive for multiple appointments
When you come in for a consultation appointment, our dental care team can help you go over the pros and cons of each restoration procedure. We will look at your overall oral health and learn about your goals to help you find the treatment that's right for you.
If you are interested in restoring your smile with dentures, we can help you stay as comfortable as possible during the process while providing you with the best dental care. Give us a call today to schedule an appointment at (719) 268-9400, and let us provide you with the complete Pine Creek Dental experience.