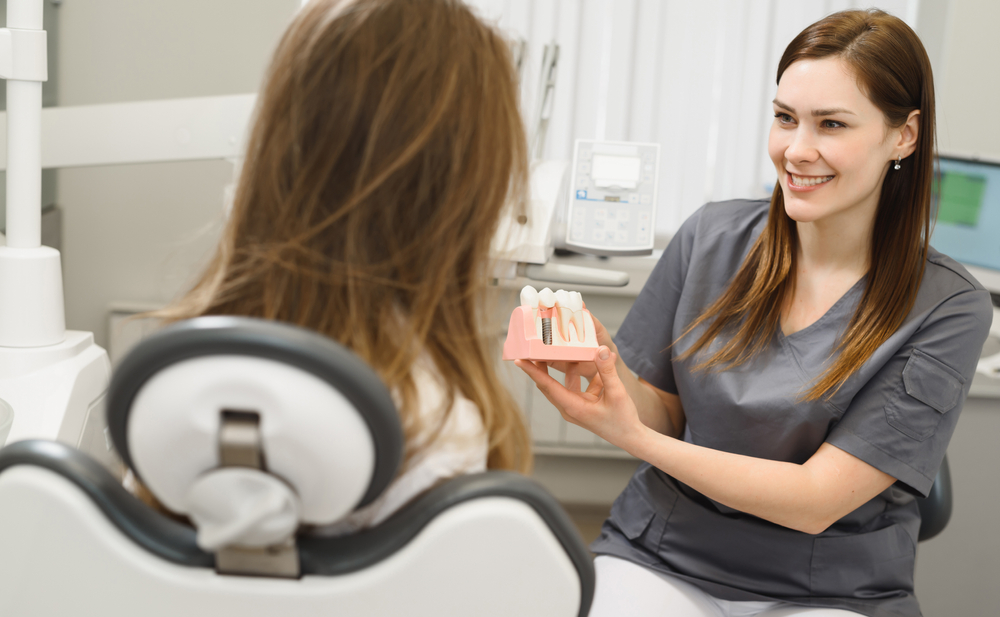 If you want to restore your smile, dental implants could be the right option for you.
At Pine Creek Dental, we offer comprehensive dental implant services. We can customize your implant to meet your needs, making it easier for you to carry on conversations and continue enjoying your favorite foods.
We are here to walk you through the dental implant process, providing you with all the information you need. Then, during the procedure, we will keep you as comfortable as possible while providing you with the best results. Learn more about dental implants below, and give us a call to schedule an appointment.
What Are Dental Implants?
Dental implants are small screws implanted in your jawbone to act as replacement roots for your missing teeth. They are usually made from titanium materials to create an ultra-strong base with minimal risk of oral tissue irritation.
Once the screw is in place, we attach a dental crown to the implant using a connector called an abutment. The crown looks like your natural teeth and functions the same way, restoring your beautiful smile.
Even though we can use dental implants to replace one tooth, we can also use them to replace a full set with implant-supported dentures. If we replace an entire set of teeth, you will have four posts placed at the upper or lower jaw to firmly hold each set of dentures.
Best Types of Dental Implants
There are three main types of dental implants used to replace one or more missing teeth:
A basic dental implant is a single post placed in the spot left empty by the missing tooth. A specially prepared crown attaches to the abutment on the post, restoring your smile.
An implant-retained bridge features two implants built to fill the gap left by three or more missing teeth. The implants provide support at either end of the gap, so your dentist can securely attach a bridge between them.
Implant-supported dentures are four posts designed to hold a full set of dentures in place at the top or bottom of your jaw. The implants offer unmatched support, helping your dentures stay in place while you eat and speak.
There are plenty of options available, and we can help you find the right treatment option to meet your needs. We will always review your options with you in depth, answering any questions you have. That way, we can put you in the best position to make the right decision for your oral health.
Dental Implant Benefits
If you decide to replace your teeth with dental implants, you may experience the following benefits:
Restore your confident, brilliant smile
Prevent the loss of your jawbone density
Keep tooth loss from changing your face shape
Make it easier to thoroughly chew your food
Improve your ability to speak clearly
Protect teeth from migrating or falling out
Enjoy excellent results that last a lifetime
To learn more and discuss your options, please give us a call today at (719) 268-9400 and schedule an appointment.