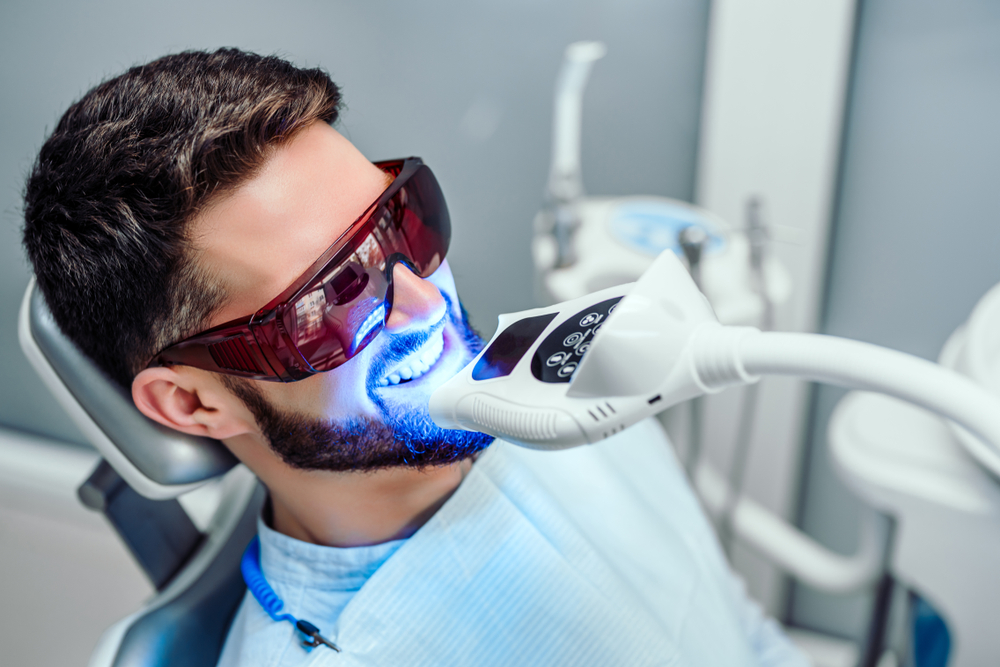 We know that you want to have a beautiful smile that you can be proud of and Pine Creek Dental in Colorado Springs can help you improve the appearance of your teeth and enhance your overall smile.
We offer a variety of professional teeth whitening services to not only enhance your smile, but to boost your confidence and improve first impressions.
What Is the Best Way to Whiten Teeth?
The best way to whiten teeth is with the help of Dr. Thompson and his staff. Professional teeth whitening services gently remove stains and brighten your teeth to your desired shade. The process works quickly, too, helping you get excellent results in just one visit.
Over-the-counter teeth whitening products can take multiple sessions before you see your desired results. This leaves your teeth at risk of increased sensitivity to hot and cold foods and beverages. If you want a better teeth whitening outcome while minimizing potential side effects, rely on our professional team to help you.
The Safety and Efficiency of Teeth Whitening
The products we use for our professional treatments have the right amount of stain-busting power to whiten teeth without irritating your oral tissues.
Our proven approach helps reduce the risk of tooth sensitivity. You can still enjoy all your favorite foods and beverages without worrying about tooth pain.
We will monitor your progress throughout the procedure to ensure your teeth reach the ideal shade. We want you to get ideal results, helping you feel great about your smile again.
What Is the Teeth Whitening Process?
Dr. Thompson will create a customized care plan to identify your cosmetic dentistry goals, including your target tooth shade.
Once your personalized care plan is created we will:
Thoroughly clean and polish your teeth
Protect your teeth, lips, and gums during the procedure
Apply the whitening gel containing hydrogen peroxide to your teeth
The whitening gel is activated by a light, which helps to break down the stains and discoloration
When the whitening treatment is complete, we will provide post-treatment care instructions to help maintain your results
We will always give you an opportunity to check the results before we are done. We want to guarantee that you are satisfied with your results and will do everything we can to meet your expectations.
If you're ready to brighten your smile, give us a call at (719) 268-9400 to schedule an appointment today. We look forward to hearing from you!