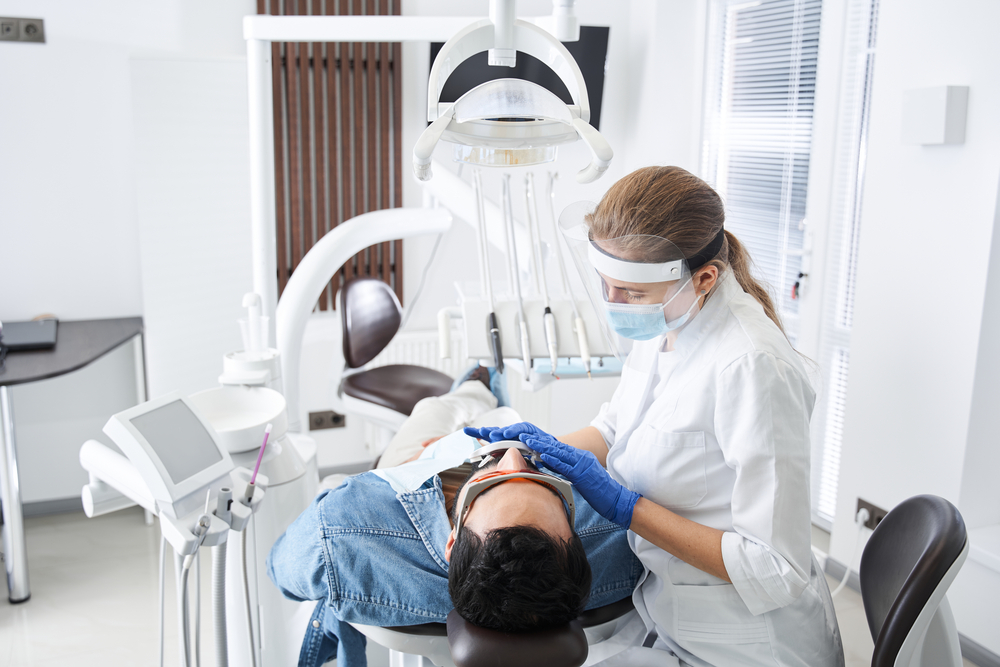 Laser dentistry uses laser technology to perform various dental procedures with greater precision and less pain than traditional techniques. The laser can be used for a range of procedures, including gum reshaping, cavity treatment, and teeth whitening. The best part is that the laser is virtually painless, making it a great option for those with dental anxiety. Another bonus of using lasers is that they can be more efficient and effective than traditional methods, meaning you spend less time in the dentist's chair.
What are Biolase Hygiene Epic Lasers?
Biolase Hygiene Epic Lasers are a revolutionary tool we use to provide top-notch care for our patients. These lasers are specifically designed to target areas between teeth and gums, providing a deep clean that traditional methods simply can't match. Using the power of laser energy, the Biolase Hygiene Epic Lasers can safely and effectively disinfect even the most hard-to-reach pockets, making it easier for patients to maintain healthy teeth and gums.
But the benefits don't stop there! In addition to the unparalleled cleaning power of these lasers, they are also incredibly gentle and noninvasive. This means that our patients can enjoy a more comfortable experience during dental visits, which can help ease dental anxiety and make regular check-ups a breeze. With the Biolase Hygiene Epic Lasers, we can provide our patients with the highest quality care while also helping them feel comfortable and at ease.
What is Waterlase Iplus?
Waterlase Iplus is a state-of-the-art laser technology and a revolutionary solution to traditional dental procedures. This laser uses a combination of laser energy and water to perform dental procedures, minimizing the pain and discomfort typically associated with traditional dental treatments.
It can be used for a variety of dental procedures, including cavity preparation, gum contouring, and root canals. The benefits to patients are numerous. First and foremost, the laser reduces the need for anesthesia as it produces little to no pain during treatment. Additionally, it's able to target only the specific area being treated, preserving healthy surrounding tissue. The laser also minimizes bleeding and swelling, reduces the risk of infection, and shortens recovery time.
What is the Fotona Lightwalker?
If you're in the market for a facial esthetic laser treatment, the Fotona Lightwalker might be just what you need! This cutting-edge laser device is designed to rejuvenate and improve the appearance of your skin without the need for invasive procedures. The Fotona Lightwalker uses advanced technology to target skin cells and tissues, stimulating the production of collagen and elastin, which are essential for healthy, youthful-looking skin. The procedure is minimally invasive, and most patients report little to no discomfort during treatment. The treatment is also quick, typically taking around 30 minutes to complete.
The benefits of a Fotona Lightwalker facial esthetic laser treatment are numerous. The procedure can reduce the appearance of fine lines, wrinkles, and age spots, leaving your skin looking smoother, firmer, and more radiant. It can also help to reduce the appearance of scars, acne, and other blemishes. Some patients report that their skin feels tighter and more toned after the treatment. And since it's a noninvasive procedure that requires no downtime, you can get back to your normal routine right away. Overall, the Fotona Lightwalker is an excellent option for anyone looking to improve the appearance of their skin and boost their confidence.
What is a Diagnodent Caries Detecting Laser?
The Diagnodent Caries Detecting Laser is a new and innovative tool used to detect dental decay before it becomes a problem. Essentially, it's a small handheld device that emits a low-powered laser beam into your teeth, allowing us to quickly and easily identify areas of decay that may be hidden from sight. The best part is that this process is painless and noninvasive, meaning that you won't feel a thing!
The Diagnodent Laser allows for earlier detection of dental decay, which means that it can be treated before it becomes a more serious issue. This can save you time, money, and potential pain down the road. Secondly, the noninvasive nature of the device means that there is no need for drills or other invasive equipment, which many patients find uncomfortable. Lastly, the process is quick and efficient, meaning you'll be on your way in no time.