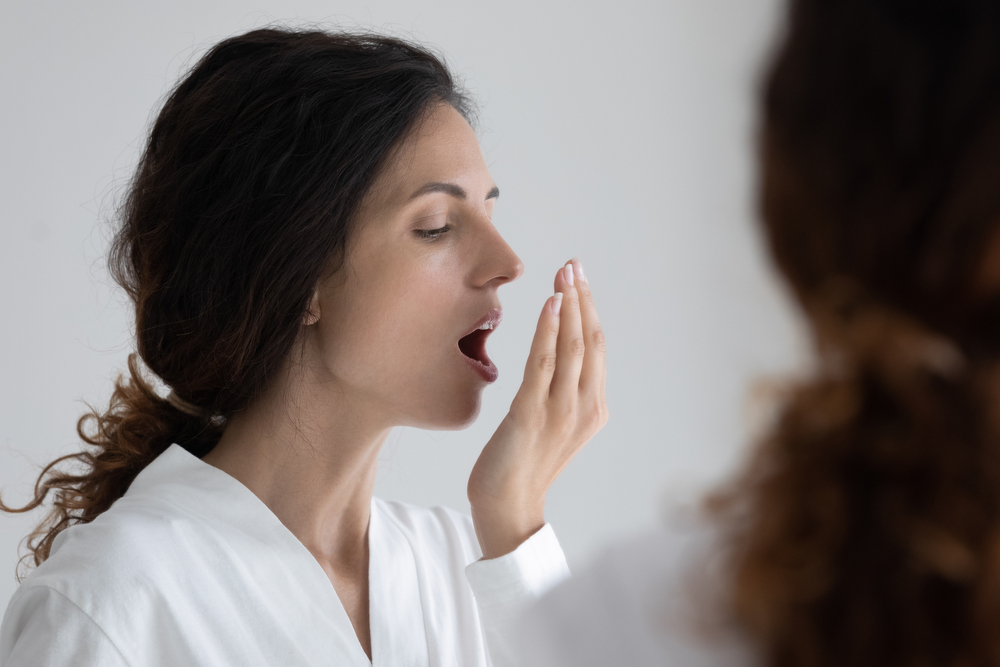 Your oral health is a critical part of your overall well-being. And, if you have halitosis, or bad breath, it can have an impact on your self-esteem and quality of life. Fortunately, we have a variety of treatment options available to help you. 
Our team at Pine Creek Dental understands the impact halitosis can have on your everyday life. We offer several treatment options in our Colorado Springs office that can help you address the root cause of halitosis and restore your self-confidence.
We are here to listen to you with compassion, and we will keep you as comfortable as possible as we address the root cause of this issue. Learn more about halitosis below, and give us a call to schedule an appointment.
Most Common Signs of Halitosis
Bad breath is the first sign of halitosis, but there are other common symptoms as well. A few problems you might notice include:
Dry, sticky mouth
Post-nasal drip
White coating on your tongue
Plaque buildup on your teeth
Sour, bitter taste
The three leading causes of halitosis are poor dental hygiene, tobacco use, and leftover food particles in your teeth. Dr. Thompson will help pinpoint the contributing factors that may cause this condition and offer solutions to help when you come into our office for care.
How To Effectively Treat Halitosis
Halitosis treatment starts with a thorough exam and dental cleaning services. We can remove plaque and check for teeth and gum issues that might cause bad breath.
During this visit, you'll have a chance to ask questions and receive guidance on how to keep halitosis at bay, such as:
Using all the best brushing and flossing practices
Brushing and flossing your teeth twice a day
Rinsing with an antibacterial mouthwash once a day
Changing your toothbrush every three months
Avoiding the use of tobacco products
Changing your daily diet to eliminate excess sugar
Drinking more water to thin mucus and eliminate dry mouth
Chewing sugar-free gum to keep your mouth from getting dry
Be sure to schedule regular teeth cleanings and dental exams every six months. The Pine Creek Dental team is ready to help you find the cause of your halitosis and provide the best treatment to fit your needs.
Schedule Your Halitosis Treatment
If you're concerned and have questions about your breath, give us a call to schedule an appointment today. We want to address your issues before they worsen over time. With regular cleanings, thorough exams, and a comprehensive treatment plan, we can resolve your halitosis condition quickly and comfortably.
Are you concerned about your breath? Give us a call today to schedule an appointment at (719) 268-9400, and discover how we can provide you with the dental care you need. That is the cornerstone of the Pine Creek Dental experience.