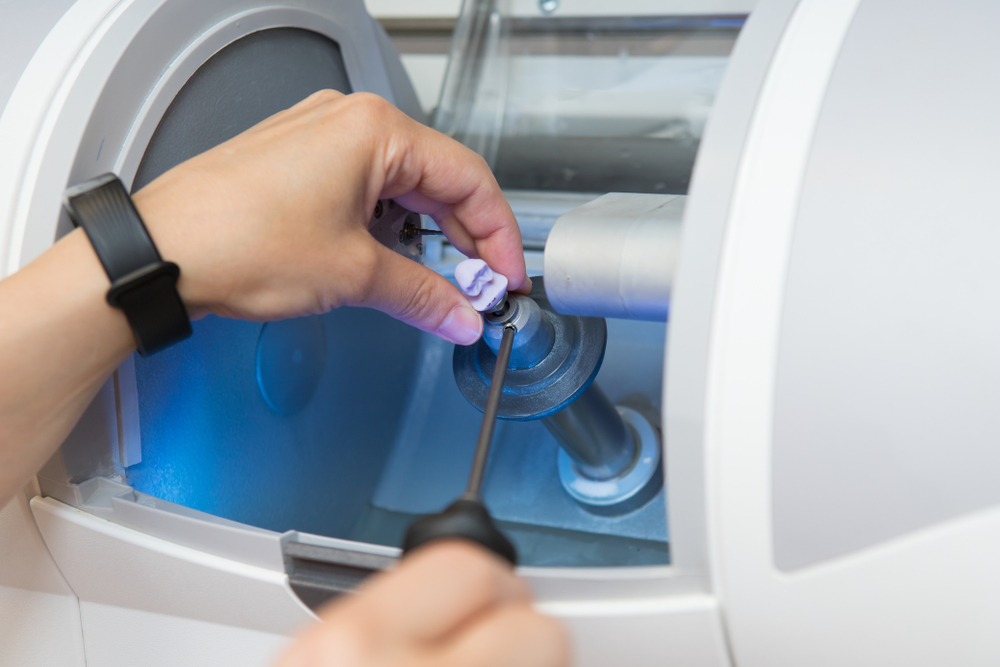 CEREC crowns are one of the best options if you want fast tooth restoration results. We use the latest technology to create crowns for tooth restoration and permanently place them in just one visit.
Learn more about CEREC crowns below, and give us a call to schedule an appointment for the complete Pine Creek Dental experience.
What Is a CEREC Crown?
A CEREC crown is a dental crown that's rapidly made in-house to allow you to get the cap placed over your tooth without a second visit. The CEREC acronym stands for "Chairside Economical Restoration of Esthetic Ceramics," which refers to its creation using CAD/CAM.
Traditional dental crowns can take a week or more to make and requires a return visit to our office. CEREC crowns, take approximately 15 minutes to construct, starting the moment your digital dental impressions are loaded into the machine.
The entire process from preparation, creation, and placement process for a CEREC crown only takes a few hours at most.
Traditional vs. CEREC Crowns
Both traditional and CEREC crowns cover a damaged tooth, restoring its shape and functionality.
The main difference is how long they take to make. Even though traditional crowns are effective, more than one office visit will be necessary to complete the process. In contrast, we can make CEREC crowns in a single day.
In addition, CEREC crowns do not provide as many material options. Traditional dental crowns can be made from porcelain, porcelain fused to metal, and gold. CEREC only uses resin or ceramic materials.
Both types of crowns can last up to 15 years, with proper care. We will provide you with a list of recommendations to follow to ensure your crowns last as long as possible.
Why Should You Get CEREC Crowns?
When you come to our office for tooth restoration services, we will discuss your options. There are several reasons why you may want to go with CEREC crowns, such as:
Restoring the appearance and function of your teeth without the wait
Avoid having to come back to the office for a second dental visit
Skipping the risk of injury while wearing a temporary crown
Getting a perfect fit that feels comfortable
Saving you money on your dental care by eliminating that second visit
We are here to provide you with the information you need to make decisions about your oral health. We believe that providing educational resources can help you stay as comfortable as possible when you come to our office, and that is central to the Pine Creek Dental experience.
If you would like to learn more about how CEREC crowns may help you, give us a call today at (719) 268-9400 to schedule an appointment.